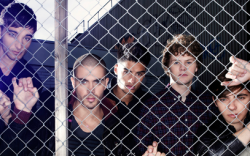 Tom Parker has thrilled music fans every­where by announ­cing Example col­lab­or­a­tion 'Chasing The Sun' is not unlike inex­plic­able US hit 'Glad You Came'.
He also revealed that it would be the all-singing no-dancing boyband's next US single after 'Gold Forever'.
"We've got a new one called 'Chasing the Sun,' which is going to go out to radio soon, so look out for it," he told MTV. "It's in the same vein as 'Glad You Came', it's upbeat."
Meanwhile Siva revealed that the band are serious about making a name for them­selves in the America. "As long as we go out there and be ourselves and the US takes us as we are, we're just coming over here to have a laugh," he explained.
Such lads. Such banter.