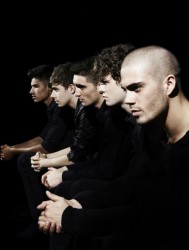 Stargate are working on new material with The Wanted.
Tom from the all-singing, no-dancing boyband tweeted the news saying: "Just found we are working with the producers Stargate."
The Wikipedia-searching popstar added: "Their dis­co­graphy is unbe­liev­able."
Any Stargate col­lab­or­a­tion is likely to appear on a third The Wanted record which Tom also revealed they've started work on telling an inquis­it­ive fan "no time for stopping. We're on a role".