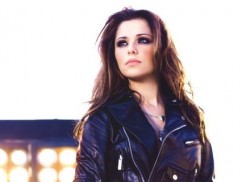 Cheryl Cole has announced via the medium of Twitter that she's finished her third album.
"Yesss.! The album is DONE !!! *dancing all over the place*" she said, demurely. "I'm Soooo HAPPY and EXCITED to share with you !! #CherylMusic on its way.. Booyaa".
The album doesn't have a title, a release date or a first single but should feature pro­duc­tion from Alex Da Kid and will.i.am and is likely to be 'unveiled' while The Voice is on TV.
'Booyaa' indeed.