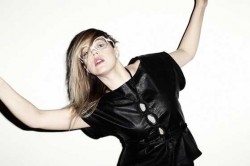 There is a new MNDR song on the internet.
'Feed Me Diamonds' is the title track from the debut album which is finally released on August 14.
You can have a listen to the song here if that's what you're into.
Talking about what influ­enced the song, Mrs MNDR basically said it's all laugh-a-minute per­form­ance artist Marina Abramovic's fault: "'Feed Me Diamonds' is solely inspired by a claim that Marina herself made about her father's death. She claimed that he was murdered by being fed finely ground diamonds which even­tu­ally caused internal bleeding in the G.I. tract."
How charming.
"With all of the themes on the album: love, loss, pain, ecstasy, politics, injustice, and emotions, Marina Abramovic inspired everything to come together," she continued.
This is actually a lot like what happened with the last Pixie Lott album.