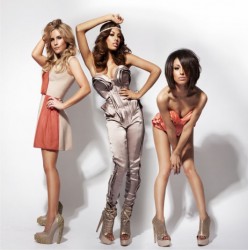 The Sugababes have compared 'losing' Keisha to a "breakup".
As we all know, breakups can be long and difficult processes, par­tic­u­larly when it comes to division of sta­tion­ery and paper-based mer­chand­ising rights and there are also two (or six) sides to each story.
Heidi told Gaydar Radio:" "You know that person's not right for you, but you still love them, because of the history that you've got. But it was awful, and things were getting written saying we kicked Keisha out".
Jade also felt like "the other lady", claiming that she was "terrified" to take Keisha's place and "wasn't sure that [she] wanted to join the group." But after arriving on the set of their 'About A Girl' music video, sur­roun­ded by 'paps', she thought to herself, "Okay, I guess I'm in the band now".