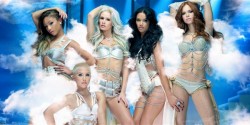 The all-new line up of The Pussycat Dolls will be offi­cially intro­duced to the world during a Super Bowl 'com­mer­cial' which has appeared online ahead of its February 6 TV debut.
The brand new dolls will 'star' in the ad for internet domain name provider Go Daddy as the object of two teenage boys' fantasies.
The group has been 'downsized' to a five-piece that now includes (in order of obscure claims to fame) ex-Girlicious Christina Sayers, Paradiso Girls singer Lauren Bennett, So You Think You Can Dance runner-up Paula Van Oppen, and former pro­fes­sional cheer­lead­ers Erica Jenkins and Vanessa Curry.
PCD CEO Robin Anton said: "This the first time that the world is going to see the actual, new Pussycat Dolls", describ­ing the ad as "two very sexy brands coming together".
Well quite.
You can watch the ad here here.