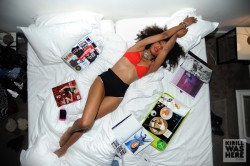 Wynter Gordon has been "playing around with" her sound and has released a clip of her recent experiments.
The snippet from track 'Kids' was posted on Wynter's brand new Tumblr yesterday and she also took the oppor­tun­ity to reveal some things about her "passion project".
Describing the untitled musical project Gordon said "It was [ori­gin­ally] like an ode to the 90s or Phil Collins, but it's taking a turn towards some sad subject matter. I have so much shit locked away, so many emotions, I swear 2012 is the year of change, everything is coming to the surface".
Wynter's debut album 'With Music I Die' is currently scheduled for release sometime this year.
Until that "comes to the surface", you can listen to 'Kids' here.