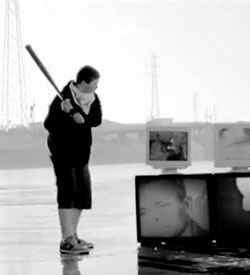 THE WAIT IS FINALLY OVER: Ke$ha's 'Sleazy Remix 2.0' now has a video, although she's not actually in it. (YouTube)
It's basically a load of old rubbish.

Christina Aguilera gave a 'full-bodied' per­form­ance of 'At Last' at Etta James' funeral on Saturday. (The Wall Street Journal)

The Pussycat Dolls are sort-of back: they will be returning with all new members in a GoDaddy.com com­mer­cial to be shown in the Super Bowl ad break on Sunday. (Ace Showbiz) All signs of a promising relaunch.

Rihanna has bought a fairly extra­vag­ant £100,000 portrait of Marilyn Monroe made up of 65,000 crystals, which the artist claims "con­stantly changes colour, sending rainbows round the room". (Capital FM)

Like the rest of the nation, Nicola Roberts was "frus­trated and angry inside every day" when Girls Aloud decided to take an extended 'hiatus'. (Contactmusic)

Peter Andre will pre­sum­ably be dis­cuss­ing the finer points of 'Mysterious Girl' and what 'Insania' really means when he speaks at the Oxford Union on Tuesday. (The Sun)

'Woohoo' hitmaker Nicki Minaj looks pretty happy in these Grammy promo pics alongside LL Cool J. (The Source)

Jessie J donates any of her unwanted onsies and safari-print mon­stros­it­ies to her local charity shop, or directly to the homeless. (The Sun) As if the homeless haven't got enough problems as it is.

And finally, there were some truly hideous outfits on display at France's NJR Music Awards over the weekend, where Adele picked up the demurely-titled International Revelation Of The Year Award and Mika (!) won International Male Artist Of The Year. (Daily Mail) Scroll to the bottom to see Redfoo from LMFAO 'striking a pose' in his 'Party Rock Anthem' ensemble, complete with a toy zebra attached to his crotch. What a cunt, ladies and gentlemen. What a cunt.
THAT WAS some of THE NEWS.