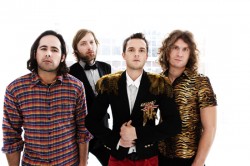 The Killers are appar­ently about to reconvene in a studio to start work on the follow-up to 2008's 'Day & Age'.
In an interview with Spin, drummer Ronnie Vannucci claimed the foursome are "getting in a room to grease the machine". Hopefully after that they'll actually record some songs. *Kenneth Williams face*
He went on to say that "we have some songs written, plus some that haven't been released that are on the cutting room floor. The objective is to get in the room and see what we come up with".
He also hoped to have the album out before "the world ends" in 2012.
Vannucci was modesty per­son­i­fied. "We want to make the best record ever with this one," he added.