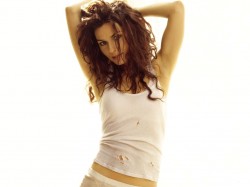 Fear not, Shania Twain will sing again.
As pre­vi­ously reported, the 'Whose Bed Have Your Boots Been Under?' hitmaker was diagnosed with dysphonia brought on by a mixture of the stress of her split with husband Robert 'Mutt' Lange and generally not taking care of her voice.
Epic sadface.
But talking to Access Hollywood, Twain claimed that doctors were optim­istic that she would be able to perform again.
"It will take a lot of work. I've gotten to the bottom of it [now]" she said, but don't go pinning your hopes on her return being any time soon. "[Right now,] I would have a very incon­sist­ent sound. I might get the odd right note out and then I might get a note that's out of control."
Out of control sounds exciting. GET IT ON TAPE, TWAINO.