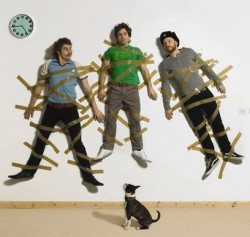 The Hoosiers have promised some free new music in the near future.
"Newsflash: The Hoosiers thank all who've kept a flicker o'flame a burnin' for us the only way they know how: by giving you music," they tweeted last night in a confusing mix of first and third person.
The band added: "We shall very soon give you a free, exclusive track to buy your love till we drop something tasty."
This will be their first release since the 'Bumpy Ride' single in March of last year. Hopefully their new material will be more like their second album than their first but who knows, eh readers?