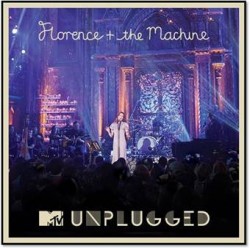 Florence '+' The Machine's Unplugged session will be broadcast on MTV on April 21 at 21:00.
Florence performed a col­lec­tion of her hits with a ten-piece gospel choir during the 'stripped back' recording in New York. Included in her set list was Johnny Cash cover 'Jackson', which she performed with Queen Of The Stone Age's Josh Homme, and Otis Reading's 'Try A Little Tenderness'. What a night out.
According to a press release, earlier that day Flo had been "hanging out at an abandoned house in the outskirts of NY" with Kanye West for a Vogue shoot, who later tagged along to the 'gig' with his pal Q‑Tip.
Here's the full list of tracks Florence performed in her own inim­it­able (shouty) way:
1. Only If For A Night
2. Drumming Song
3. Cosmic Love
4. Breaking Down
5. Never Let Me Go
6. Try A Little Tenderness
7. No Light No Light
8. Jackson (featuring Josh Homme)
9. What The Water Gave Me
10. Dog Days Are Over
11. Shake It Out