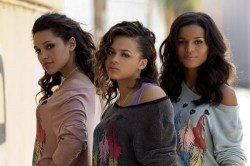 SoundGirl have unveiled the video for their new single, 'Don't Know Why' on The Sun's website.
The song is, according to The Sun, "a fizzy 2011-style refit of Carly Simon's 'Why' with thumping beats and an old school R&B influence". That def­in­itely didn't come from a press release.
The video was shot in Barbados in between trips to America where the trio are currently working on their debut album, due in September.
Of the album, Izzy says that "each song def­in­itely brings something new to the album" and that there are "some slower ones, with mean­ing­ful lyrics with really cool beats, and then there are some press play and just dance type tracks too".
It's literally an album for everyone. How can it fail?