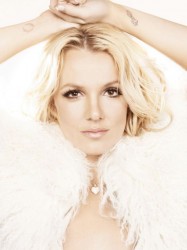 In a new interview to promote the forth­com­ing 'Femme Fatale' tour, Britney Spears takes the time to reflect on the sig­ni­fic­ance of her latest album's name.
"Femme Fatale means empower­ment and very strong woman" says Britney. "I think that's very important for girls today to hear that message."
Of her col­lab­or­at­ors, Britney thinks Max Martin and Dr Luke are "geniuses" (!), Will.I.Am is "a creature" (?), and the director of the 'Til The World Ends' video Ray Kay is "fun" (.).
Britney also talked about her current iPod favour­ites. "I really love Adele", she noted, adding that Robyn's 'Body Talk' is "really different and interesting".
Cheers 'Spearo'.