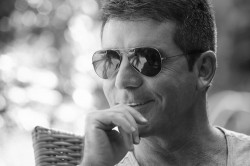 Simon Cowell has accused The Voice of ripping off The X Factor, the show that was nothing like Pop Idol.
Having a chat on Radio 4 (as reported here) he explained his theory in the following manner: "That show puzzles me because it starts off and 'it's all about the voice'. So my first thought is, 'Why isn't this on radio?' because what's the point in looking at them."
So far so correct.
"Then suddenly I'm watching it a week or two weeks ago and it's the same as The X Factor. They've got dancers behind them, graphics, lights. Same show," he continued impartially.
Unsurprisingly he's also quite happy with how that whole ratings war stuff panned out: "When The Voice came along it was like, 'Roll your sleeves up, we're in for a bit of a punch-up.' I'm smiling now."