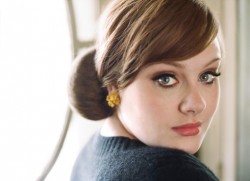 Adele continues her reign as Queen of the UK charts with 'Someone Like You' spending a fourth week at Number One and '21' spending a seventh week at the top of the albums list.
What is even more remark­able is that it's so far sold over 100,000 copies each week, equaling a record set by Leona Lewis' 'Spirit' and then equalled by JLS' self-titled debut.
Can we pause for a moment to imagine some kind of Adele-Leona-JLS collaboration?
Literally appalling.
The album is also at Number One in America and probably every other country that sells radios, TV sets or 'the Internet'.