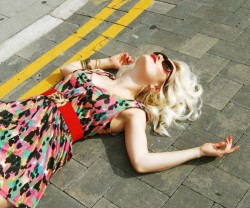 Ronika has announced a "NEW SINGLE" that she seems quite excited about.
The "summer jam" has been promised for March and "will be dished up with a broody disco b‑side and some tasty remixes".
She's also 'embarking' on a 'tour' of live dates and DJ sets starting this weekend with an appear­ence at London's XOYO with Alex Metric.
She suggests there's "probably no need to camp over" for her shows which will run through February and March and finish up at Glasgow's Death Disco night in April.
Describing the Ronika live exper­i­ence she says: "I will be throwing good vibes out, you can throw them back and we will fight."
The full list of dates is as follows:
January 28 2012: XOYO, London (with Alex Metric, The Magician, Mighty Mouse and Visions of Trees)
February 10 2012: Electronic Rumors Compilation Launch @ 93 Feet East, London (DJ Set)
February 18 2012: The Nest, London
March 22 2012: The Castle Hotel, Manchester
March 23 2012: Bodega, Nottingham
March 24 2012: Theckla, Bristol
April 21 2012: The Arches, Glasgow (Death Disco)
So there you go.