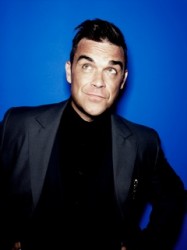 Look, basically Robbie Williams will do whatever they ask him to do on The X Factor this year.
With Cheryl 'Cheryl' Cole taking over as Gary's hired help for the judge's houses section, Robbie's not exactly sure what he'll be doing but he's showing up regardless.
"As long as there's an X Factor there will be a Robbie Williams on The X Factor – as long as people are still watching it," he explained to Capital FM. "I'll do whatever they want me to."
Reminiscing about old times, he added: "I had a wonderful time with One Direction when I was on that show and Olly Murs. I'm looking forward to more wonderful times with whoever they want to put me with."
Look out 'Eddy String'.