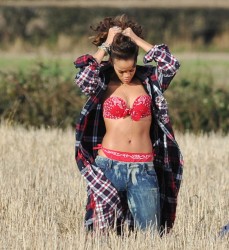 Rihanna has broken a number of different British chart records, reports the Official Charts Company.
Not only should she be awarded with some kind of medal for keeping Olly Murs' 'Dance With Me Tonight' off the Number One spot in the singles chart with 'We Found Love', but her album 'Talk That Talk' is also Number One on the album charts.
This means she's the first woman ever to do the chart double twice in a year, following January's double with 'What's My Name?' and 'Loud'.
She also becomes the first woman ever to have two different Number One albums in the same year, joining a list that includes Michael Jackson, Robbie Williams and Elton John.
It also means she's surpassed Adele as being the artist to spend the longest at Number One on the singles chart this year with seven weeks and also has twenty different songs in the chart, including two inside the Top 10.
Miraculously, she's still destined not to enter the US charts at Number One this week, despite 'We Found Love' topping the chart for a month. That accolade is set to go to Nickelback. Well done everyone.