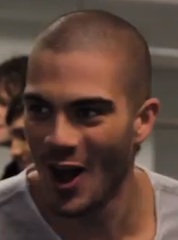 The Wanted have been at their cha­ris­matic best promoting a new Mario and Sonic game. (Daily Record) The 'lads' do seem to be enjoying them­selves. At 30 seconds in, however, Max and Siva appear to be having a little bit too much fun.

If you missed JLS per­form­ing their new single 'Do You Feel What I Feel?' on The Graham Norton Show, you can watch it here. (BBC iPlayer) Aston was wearing a pink bow tie.

You can listen to an ''exclusive'' stream of Adele's 'Live At The Royal Albert Hall'' album here. (The Guardian)

There has been a slightly odd Twitter argument between Nicki Minaj, Cher, and their respect­ive fans. (Ace Showbiz) It all 'stems' from a lyric in Nicki's 'Did It On'em', which was mis­takenly read as 'dissing' Cher. But nobody seems to under­stand what it means anyway.

In news that will surprise millions Global Events — the company behind the not-exactly-spec­tac­u­lar Michael Jackson tribute concert last month — have gone into admin­is­tra­tion. (Contactmusic)

She has broken some dishes and now Rihanna is breaking some records. You can read the full 'rundown' here. (Official Charts Company)

Global Songstress Leona Lewis, Pixie Lott, and Keisha Buchanan all appeared at an animal sanctuary fun­draiser over the weekend. (Daily Mail) Surprisingly enough, there are some photos of Leona standing next to a horse.

If the past seventeen hours without a new Beyonce video have been close to unbear­able, fear not: she has released one for 'Dance For You'. (YouTube)

Taio Cruz has been getting quite philo­soph­ical. (Twitter)

And finally, this is a video, 'obtained' from Miley Cyrus' birthday party last week, in which she admits to smoking weed. (The Daily) But let's be honest, the most worrying aspect of the footage is the giant panda.
THAT WAS some of THE NEWS.