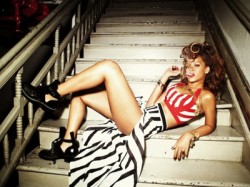 Work-shy layabout Rihanna has revealed she already has a rough idea of what she wants her next album to sound like.
Talking to Capital FM she said: "I'm def­in­itely thinking about the next record. I'm a multi-tasker so… Right now we're working on col­lect­ing and creating the sound first before we even start working on the lyrical direction or melodies."
"I kind of have an idea though, and it's very rough right now," she continued.
So there you go.