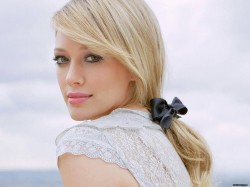 Occasional popstar Hilary Duff is planning to record a new album.
"I'm going to focus on my music," revealed the 'Sweet Sixteen' chanteuse. "It's been a long time coming. I'm finally buckling down and getting in the studio."
She probably really misses touring and con­nect­ing with her fans.
"I really miss touring. I really miss con­nect­ing with my fans in that way."
Anything in the realm of this or this will do just nicely thanks.