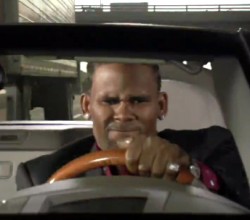 The latest thrilling instal­ment of R Kelly's hip-hopera Trapped In The Closet is "coming soon".
The aptly-titled Trapped In The Closet: The Next Instalment will air this year on American network IFC, who described the series as "filled with over-the-top char­ac­ters and complex storylines, all set to a sexy R&B groove".
In many ways, this sounds much like the Popjustice office.
In a statement on the network's site, it promised that the original cast and char­ac­ters including Rosie the Nosy Neighbour, Big Man and Pimp Lucius would return in the new episodes which will once again be written, exec­ut­ively produced and co-directed by Kelly.
Here's the teaser video.