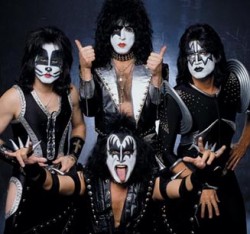 Facepaint legends Kiss have said some hurtful things about Rihanna, reports Billboard.
Talking at the launch of a new tour with Motley Crue and riled by what he saw as the decline of rock as a live entity, Kiss frontman Gene Simmons said: "We're sick and tired of girls getting up there with dancers and karaoke tapes in back of them. No fake bullshit. Leave that to the Rihanna, Shmianna and anyone who ends their name with an 'A."
Eager to buddy up to his future touring partner, Motley Crue's Tommy Lee continued: "No dis­respect to Rihanna, she's a great singer, but we're in a slump for some shit that has some per­son­al­ity and appeal beyond a bunch of pop stuff that's floating around out there."
"It's fucking pathetic to watch people go out and fucking karaoke with a bunch of lights and video. It's all com­pletely watered down," he droned.
Well done everyone.