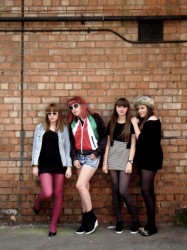 Molly from Poppy & The Jezebels has revealed that her favourite body part is the bottom.
In an interview with Holy Moly! the singer described them as "pretty cool". She went on to say that her ideal bum would be "quite big, I think. Definitely not a flat one".
When not talking about the anus, Molly also noted that her karaoke staple is 'Email My Heart' chanteuse Britney Spears. "When I was younger I did '…Baby One More Time' as kind of a standard one," she said, "but now I might pick something like 'Piece Of Me', that one's pretty good."
Isn't it just.