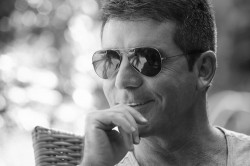 Il Divo creator Simon Cowell is upset that The Voice has scheduled an episode at the same time as The X Factor US premiere.
"It's a spoiling tactic, and it's very simple: They don't want people to see this first episode," Cowell mused to Billboard. "I think it's mean spirited and I hope and I pray that it backfires on them because this is one of the best shows we've ever made and I am pissed off about it."
While creator of The Voice Mark Burnett has said he was unaware of the schedul­ing conflict, Simon was sceptical, respond­ing: "Give me a break. Like I don't know when my show is going out next week. Like I said, it's tactical."
Demi Lovato also chimed in, saying: "I think the whole situation is a little unfair and I don't know why they would do that, but ulti­mately it's about finding a superstar and giving people the chance to win a huge prize of $5 million."
It's unfor­tu­nate that there's no way Cowell could spin this scandal into a marketing ploy, isn't it.