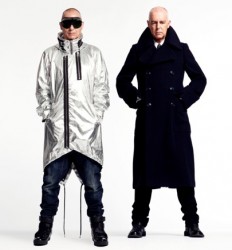 'Winner', the Pet Shop Boys semi-hit assumed by most to have been 'penned' for the Olympics, was ori­gin­ally con­sidered as a UK Eurovision entry.
In an interview with The Arts Desk (full thing here) Neil Tennant explains that the song was written while Pet Shop Boys were sup­port­ing Take That in 2011.
"Every night we would leave the stadium and Take That would come on singing this song they had called 'The Greatest Day'," Neil says. "Chris said, 'Why don't we try writing a mid-tempo anthem?'"
But in the back of his mind he heard distant feet: Scooch and Engelbert Humperdinck to a Euro beat. "The truth of the matter is that, from my per­spect­ive, I was thinking about the Eurovision Song Contest. The BBC have twice asked us to write the Eurovision entry for Britain and we thought if we had the right song we might give it to them. When we started writing this it seemed to be like a Eurovision Song Contest song. The ref­er­ences to competing, in my mind, at the time, were about entering Eurovision and it coming from Kazakstan."
Amazing.
In the end, of course, they kept it for their new album 'Elysium', and chucked it out around the Olympics. "We put out the song because it was evidently relevant and we knew that if we didn't put it out, when the album came out in September everyone would say, 'Why didn't you put out that song during the Olympics?'"
So there you go. The full interview's here and jolly good it is too.