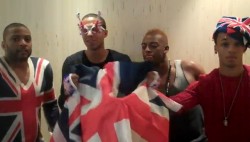 Founding member of JLS, Oritsé Williams, has exposed himself on the internet in a bid to win a Brit Award.
The band — dressed in red, white and blue 'clobber' — recorded a YouTube plea encour­aging fans to vote 'She Makes Me Wanna' as Best British Single.
Oritsé proceeds to 'drop trou' exposing his Union Jack pants scrawled with the words 'Vote JLS'.
We can't help but wonder whether this might have had more impact if Marvin had just got his cock out.
You can watch the video here and vote for One Direction here.