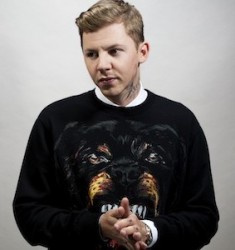 Chris Martin has promised to play coun­sel­lor to Professor Green if he's ever feeling down, by taking him out for a pizza.
Green explained to The Sun that the offer came about while he and Emeli Sandé were sup­port­ing Coldplay's tour last year.
He said: "Somehow we got on to the subject of my dad and obviously, with him having committed suicide, it all got quite dark."
Extending the sym­path­etic hand of support, Chris appar­antly told Green: "Well, if ever you are thinking about com­mit­ting suicide, just phone me and we'll go for a pizza and just talk."
If you spot Chris Martin and Professor Green sharing a Hawaiian at your local Pizza Hut it's probably not the right time to ask for an autograph.