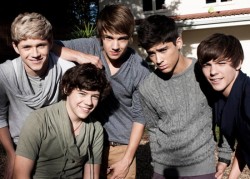 Budding thespians One Direction wouldn't mind starring in their own film.
Luscious hair wearer extraordin­aire Harry told The Sun: "Movies are something we would consider. But it would have to be what we want."
"We would love to do Romeo And Juliet, as depicted by One Direction," he continued, "and we should play the parts — Niall would be Juliet!"
Proving that he really is the band's leader, Niall replied earnestly: "I don't really mind playing Juliet, if I'm honest. I'd do whatever is good for the group. I'm there. We are all there for each other."
The band have already decided who would play who, with them all picking Hollywood actors apart from Zayn who felt that Louis should play him.
How odd.