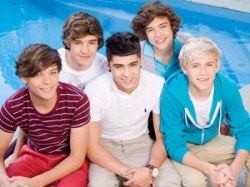 Apparently the One Direction 'lads' had a sauna together before their first show of their current UK tour, which started in Wolverhampton last night.
Speaking to The Sun, Louis said they hoped it would be a permanent thing.
Demands on their rider include Jelly Babies, Haribo and clean pants and socks.
The Haribo isn't to be consumed willy-nilly, with their pre-gig ritual being to eat one sweet and then run out on stage.
As well as per­form­ing songs from their debut album, the crowd were also 'treated to' a medley of covers, including Kings Of Leon's 'Use Somebody' and Amy Winehouse's version of 'Valerie'.