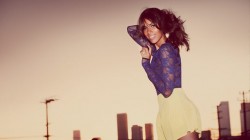 Leona Lewis will perform her cover of Snow Patrol's 'Run' during the US X Factor final tomorrow.
Talking to the official US X Factor site, she outlined the story of the cover. "I did a live version of it on the radio station one time and a lot of my fans were like, 'record it, record it'," she said. "So I ended up recording it and it did really, really well in the UK and here. It's a really touching song. I think people will get a lot from it."
She also brushed off any nerves about per­form­ing in front of Simon Cowell, claiming she's done it so often that "it's like normal now".
When asked about her working rela­tion­ship with him, she added: "He kind of supports you to do your own thing and bring the best of you out. He really encour­aged me to follow my own instinct."
Asked about her delayed third album 'Glassheart', she said she was hoping it would be "timeless" and that it will be "an album that is full of quality and full of amazing songs".
That's what we all want Leona. What's all we want.