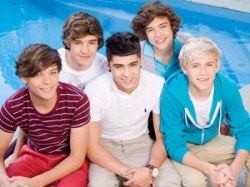 Don't panic, but Louis from One Direction has told the Daily Star that he wants their future output to feature "more guitars" and be "grungier".
"We like the sound of a real guitar on tour," the sailor-shirt-wearer explained. "We beefed up the live show so now we want to take it onto the album."
In further good news for fans of bad news, Liam revealed the group's inten­tions to write their own lyrics with Ed Sheeran, who co-wrote one of their debut album's bonus tracks, 'Moments'.
"We spoke to him about helping again for the next album which we want to actually write with him this time," he revealed.
One Direction will be at tomorrow's Brits where they are nominated for Best British Single for 'What Makes You Beautiful'.