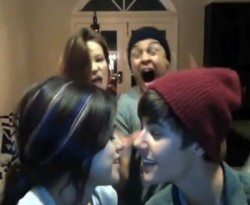 Justin Bieber, Selena Gomez and Ashley Tisdale have made a 'music video' for Canadian Idol alumnus Carly Rae Jepsen's reas­on­ably catchy 'Call Me Maybe'.
Jepsen's famous friends filmed the clip of them 'larking about' to the song in an effort to raise the singer's inter­na­tional profile.
Carly Rae was announced last week as the first act to sign to Justin and Scooter Braun's record label Schoolboy Records — so that possibly helps a bit too.
'Call Me Maybe' is currently Number One in the Canadian charts and you can watch the homemade music video here.