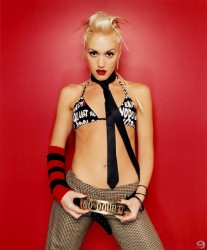 The new No Doubt album is shaping up to be an all out pop affair with "pounding dance beats", according to a Rolling Stone exclusive.
The band have been working on their as-yet-untitled sixth album with producer Mark 'Spike' Stent, who has pre­vi­ously worked with Britney and The KLF as well as producing seven tracks on Gwen Stefani's 2006 album 'The Sweet Escape'.
In Rolling Stone's Summer Music Special, a feature on the band describes new song 'Settle Down' as a "party-ready reggae blast", and the "beyond-catchy" 'One More Summer' as featuring "pounding dance beats".
The band's drummer Adrian Long, who is known for wearing not a lot of clothes, spoke of his anti­cip­a­tion about playing it live. "I might lose control and shit all over myself," he said.
Gwen Stefani is said to be "almost vibrating with glee" at the thought of the new material. "We all want the same thing", she said, "for it to be modern and catchy and addictive."