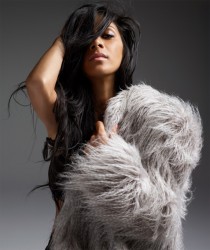 Nicole Scherzinger is still working on songs for the US version of 'debut' solo album 'Killer Love'.
After 'Right There' finally gave her the hit single the scrapped 'Her Name is Nicole' album didn't really give her (ie it peaked inside the US top 40), she's decided to go about the usual release method for the new American version, ie scrap some of the songs and record a load more.
Billboard reports that Nicole has recorded over 40 songs for the album, which she claims "will not be finished until the very last minute", despite it already being released in the UK and other 'ter­rit­or­ies'. We guess Nicole is perhaps dis­play­ing an awareness that her American fans will have down­loaded the album already anyway, or perhaps that parts of it weren't very good, but we'll expect to know when the album is released "mid-November".