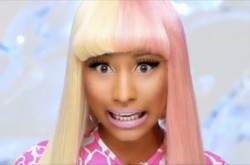 Nicki Minaj has said the drink and drug ban on her upcoming tour with Britney Spears is "a great thing."
In an interview with Life & Style, the singer confirmed that the tour will be free from intox­ic­ants, as per Britney's request.
"Yes [drink and drugs are banned], as it should be. I think it's a great thing. It's def­in­itely not a negative thing. It's not going to affect me in any way," she claimed.
"If that's the way Britney wants it, so be it. She's the queen of her castle. It trickles down and makes everyone responsible."