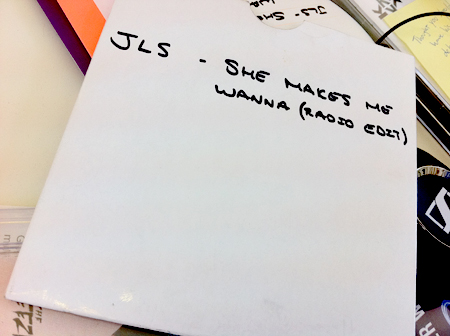 Earlier today we had a couple of listens to the new JLS single, 'She Makes Me Wanna'.
Here are some things we dis­covered.
» It really is quite a toe-tapper.
» There is a huge "she makes me wanna oh oh oh, oh, oh-oh" synth riff chorus bit which will probably give Calvin Harris an aneurysm when he hears it but it's important to remember that it has been well over a month since JLS released a song that had a bit in it that sounded a bit like a bit in 'I'm Not Alone' so let's not be too hard on them. We are not sure what the "oh oh oh oh oh oh" is that 'she' makes JLS want to do, but it def­in­itely lasts for six syllables. We think it is probably 'Go to Tesco Metro'.
» "She is my guide," they sing at one point. The guide to what, one wonders. The guide through life? Is she a spiritual force, guiding JB on a course through the miracle of human existence? No, she just knows where The Club is. "Direct me to the floor," JLS muse. "Turn it up some more." We have a bit of a love/hate rela­tion­ship with songs about 'The Club' (we love songs that aren't about it, we hate songs that are) but 'She Makes Me Wanna' is, we suppose, a love song first and a club song second. Mind you if the "oh oh oh oh oh oh" bit really is about going to a miniature super­mar­ket then it's not about love either — it's about huge super­mar­kets muscling in on small busi­nesses and forcing them off the high street and as such is JLS' most politi­cised single to date. Can someone from the label please get back to us on this cheers.
» The song feels like a proper move forward for JLS. Let's hope they don't bollocks it all up with their next single.
» The song's produced by RedOne (after the band somewhat bizarely won his services in an auction — amazing) and for this reason includes a bit where various inter­na­tional locations are listed. Fans of the 'London to Ibiza, straight to LA, New York, Vegas to Africa' bit in J.Lo's 'On The Floor' will enjoy JLS' unique spin: "from London to Jamaica, LA to Africa, she makes me wanna oh oh oh, oh, oh
oh". We are not sure if they have Tesco Metros in Jamaica. Can any readers confirm/deny?
» If Taio Cruz released it, 'She Makes Me Wanna' would be Number One in America for 400 years. As it stands, JLS are releasing it and it will just be Number One in the UK for a week or so. But in the current climate that's not to be sniffed at.
» Dev appears in the middle eight as the titular 'she'. It all works jolly well and we are sure that there will be lots of sexual chemistry in the video. "Flying over buildings, sitting under palm trees, drinking
bubblegum drinks." That is one of Dev's lines. THAT IS ACTUALLY A POP LYRIC.
» There is not much in the way of stupid Auto Tune, meaning that it is actually possible to consider this track as a proper pop song rather than just a load of old racket made by angry computers.
» We will need to give it a few more listens before we can give you a proper verdict on whether 'She Makes Me Wanna' is amazing, actually amazing, sort of amazing or any other sort of amazing, but for the time being we're happy to say that it is Properly Brilliant.
» It's on the radio from tomorrow morning (Capital get the exclusive) then
it's available to buy on July 24, which unless we are much mistaken
qualifies as a massive 'stick it up your arse' to On Air On Sale. At
some point in between — on June 12, to be precise — the song's being
performed live for the first time at Capital's Summertime Ball.
That's your lot.