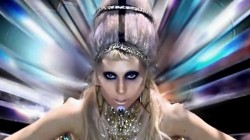 Lady Gaga has explained that she con­struc­ted the chorus to new promo single 'Hair' while on the toilet.
According to The Sun the singer said: "I was working on 'Hair' with RedOne really organ­ic­ally.
"We were creating the track together in the studio and then I got up to go to the bathroom. I was taking a pee and then I thought of the chorus."
She continued, "I ran out and I said 'I have the chorus!' and he started laughing."
The singer's recently released album 'Born This Way' is set to knock Adele off the top spot in the UK this weekend, out­selling her eleven week chart topper '21' by seven copies to one.