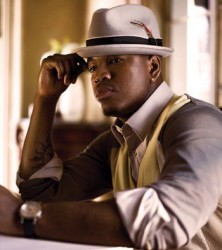 Perpetual hat-botherer Ne-Yo doesn't want any more "fly-by-night, add water-and-stir artists".
Talking as part of a lengthy (and pretty inter­est­ing) 'invest­ig­a­tion' by the Associated Press (via Yahoo) into the fact that a lot of popstars are selling shitloads of singles but not albums, Ne-Yo said: "I feel like it falls on the shoulders of not only the record label, but the artists themselves."
"I feel like the thing that makes you go out and get a person's whole album is you liking that artist, you con­nect­ing with that artist."
Ne-Yo — who is also senior vice president of A&R for Universal Motown Records — also doesn't really buy the fact that the industry is becoming singles-driven anyway: "So it's like, basically that means that we sign a bunch of disposal artists, you know, as long as we get one hit that's good? That's BS."