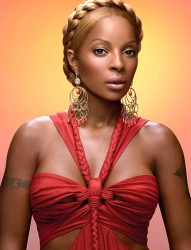 Mary J Blige has FINALLY broken her silence on the whole Burger King chicken wrap advert fiasco.
Talking to TMZ, the 'It's A Wrap' chanteuse said: "I agreed to be a part of a fun and creative campaign that was supposed to feature a dream sequence. Unfortunately, that's not what was happening in that clip."
The advert was pulled earlier this week with "licensing issues" given as the reason, but Mary's adamant the whole thing just wasn't finished. "I under­stand my fans being upset by what they saw," she continued. "But, if you're a Mary fan, you have to know I would never allow an unfin­ished spot like the one you saw go out."
In fact, a Burger King spokes­per­son seemed to agree, apo­lo­gising "to Mary J and all of her fans for airing an ad that was not final".
Hm…