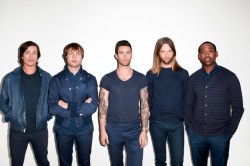 Maroon 5's ode to an analogue tele­com­mu­nic­a­tion device has helped them set a digital download record in America, reports Billboard.
'Payphone', which features a guest spot by rapper Wiz Khalifa, 'shifted' 493,000 downloads last week — the highest weekly digital sales figure by a group to date.
Mind you, that wasn't enough to knock Glee fan Gotye off the Number One spot, with 'Payphone' entering at Number 3.
The previous record holders were the Black Eyed Peas with the heartfelt 'Boom Boom Pow', which sold 465,000 in 2009.