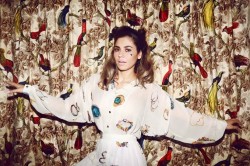 Marina & The Diamonds has confirmed that her next single will indeed be 'How To Be A Heartbreaker' and that it will be out on October 15.
The story goes that the song was written and recorded after the UK version of 'Electra Heart' was completed, hence it only appearing on the US version at the moment.
According to a press release that will all change, with a re-release of the album including 'How To Be A Heartbreaker' due later this year.
Marina starts another UK tour around the release of the single, which is a nice coin­cid­ence. There's more info on all that here.