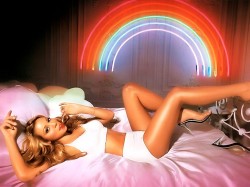 Mariah Carey's appar­ently in the process of recording "a very, very hot record" according to her friend and American Idol colleague, Randy Jackson.
Having a chat to Billboard about his new range of guitars (!), he was obviously asked about something more inter­est­ing, ie Mariah Carey.
"We've got some hot new music, and there's gonna be a single some time soon," he said, foregoing specifics. "There'll be an album as well. We're talking about a world tour. There's a lot of stuff going on."
"She's making a very, very hot record, I'm really happy. It's gonna be a great 2013, dude, we gonna fire it up," he continued.
Musing on the slightly odd idea of a bunch of kids singing Mariah Carey songs at Mariah Carey, he said: "For me, it's about Mariah being one of the greatest singers of all time. It's funny, these kids come on and they're trying to sing her songs in front of her. It tickles me, I just laugh. You got some bold kids out there today, man."