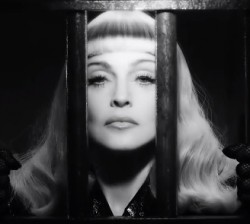 Madonna's finally confirmed the release date for this secret project thing of hers and that date is September 24.
Now called secret­pro­jectre­volu­tion, the 17-minute long film in col­lab­or­a­tion with Steven Klein will be available as a free download via file sharing site Bittorrent at 2pm EST (7pm GMT).
"My goal is to show by the example of secret­pro­jectre­volu­tion my creative com­mit­ment to inspire change in the world through artistic expres­sion," the 'Girl Gone Wild' hitmaker said in a statement (as quoted here).
"I hope my film and other sub­mis­sions to Art for Freedom will be a call to action and give people a place to voice their own creative expres­sion to help fight oppres­sion, intol­er­ance and complacency."
Klein also released a statement, explain­ing that the film invest­ig­ates "our private prisons. It questions what we do, how we do it and how we treat others. It questions our gov­ern­ments, and our col­lect­ive thought patterns. Think about it – the power of art can lead to peace."
Should be fun!!