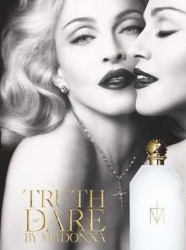 The advert for Madonna's perfume, Truth Or Dare, premiered on YouTube last night.
The advert sees Madonna getting up to her usual décol­letage clutching antics in her pants, all soundtracked by 'Girl Gone Wild'.
We're reliably informed that the smell is "both a light and dark, opening with notes of gardenia, creamy tuberose and neroli".
Fans of creamy tuberose, get in line.