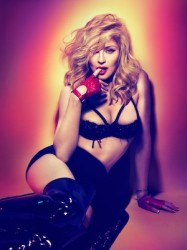 The recording of Madonna's 'Gang Bang' was inter­rup­ted by an impromptu trip to watch a sunset.
Talking as part of some EPK thing for 'MDNA', William Orbit said that Madonna suddenly declared a desire to see the sun which resulted in the pair standing in the middle of a Manhattan street with Madonna singing songs from musicals.
This 'sojourn' inspired Madonna to then go back to the studio and record an "incred­ible vocal" that "just came pouring out".
You can watch the whole EPK thing here.