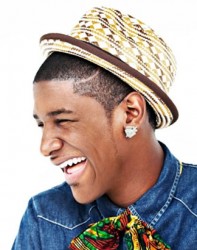 Labrinth says Cheryl Cole and Rihanna have been pestering him to work with them.
The kindfaced singer and pop inventor said that he's eager to make the col­lab­or­a­tions happen, too, so he's not just showing off.
"We've spoken about doing stuff and I've had a few calls from various people," he told Capital FM. "Cheryl Cole, Rihanna – quite a few names and hopefully we'll get working soon."
Adding weight to these claims, Cheryl continued to plague him on Twitter today, posting: "Labrinth Come in *earth­quake voice* Call ME !!!!"
Labrinth is currently working with Usher on a track for the 'Hey Daddy (Daddy's Home)' hitmaker's forth­com­ing 'Looking For Myself' record.