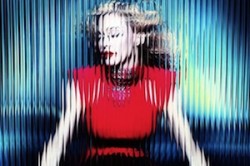 Talking to WWD.com, 'Girl Gone Wild' hitmaker Madonna says that while the Super Bowl per­form­ance was one of her "most treasured per­form­ing exper­i­ences", she has regrets about her footwear.
"The dance that LMFAO does, the shuffle, was really hard to do in heels," notes the horse-leaping songstrel. "I have to say, I would prefer to do the shuffle in sneakers."
Showing that she still has a grasp on modern day parlance, she went on: "If you want to drop it like it's hot, it's good to wear flats, because then your booty gets really close to the floor, but then there are things you can do in heels that you can't do in sneakers."
Oh Madonna.