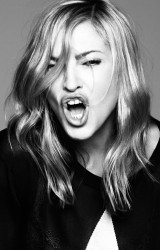 William Orbit says that he and Madonna are still working on new material for her forth­com­ing album 'MDNA'.
Speaking on a special version of BBC's The Strand, and reported by MuuMuse, the producer said he is working with her on "extra acoutsic versions" (CHRIST) ahead of the album's March 26 release date, describ­ing them as "downbeat… Kind of the banjo and things like that".
Discussing the new material Orbit said: "There's some pretty hard, rocking tracks. There's a very different variation of… Styles. Mostly pretty savage, actually. The singles that have come out aren't neces­sar­ily representative."
Orbit also confirmed that he had worked on at least six tracks for the album.